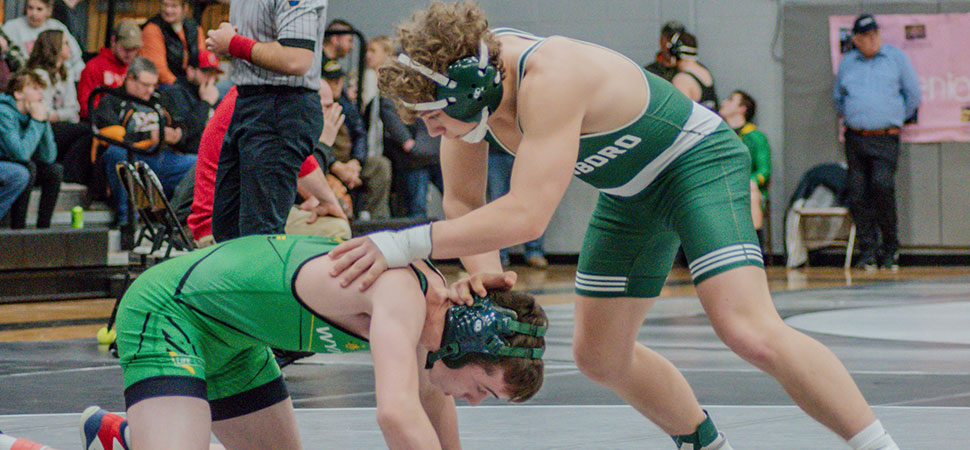 Hornets Place 9th At Sectionals, Send Two To Districts
By: Ed Weaver / February 19, 2023 / Photo: High On The Mountain Photography
Sophomores Silas Mickey and Ryder Bowen became the first Wellsboro wrestlers to advance to the PIAA District IV tournament since 2017 at Saturday's North Section Tournament.
Mickey finished 4th overall in the 145 lb. class and Bowen was 3rd at the 160 lb. class.
Overall the Hornets finished 9th as a team with 25 points.
"I'm super proud of our team this season and how we've been able to build upon this program," said head coach Bryce Bitner. "Starting a program from scratch is no easy challenge, but collectively as a staff, team, and community, we've been able to make this happen. Even in our losses, we've been able to improve and feel as though we're finally competing against these other schools with historically tough programs."
Mickey started the day off winning his quarterfinal match against Troy's Peyton Bellows with a 1:20 pin fall. He lost in the semi-finals to Canton's Hayden Ward in 1:28. Mickey did bounce back with a win over Wyalusing's Reuben Kinney with a 4:32 pin fall. Mickey then lost a close 6-5 decision to Towanda's Chase Geurin.
Bowen won his quarterfinal match with a 56 second pin over Northeast Bradford's Camron Rinbeold, then dropped an 8-2 decision to Canton's Brenen Taylor. Like Mickey, Bowen won his consolation semi-final bout, 5-2, over Towanda's Jace Gunther to move to the third place match, where he defeated Williamson's Joel Hultz win a pin in 2:41.
"Ryder and Silas wrestled a great tournament and certainly deserve the recognition of placing and moving on," continued Bitner. "It's been a long time since Wellsboro has had a District Qualifier and these two are certainly deserving of the opportunity to move on. Their work ethic and passion for improvement have led them to achieve the goal of being a District Qualifier and I'm excited to see them compete at the next level and make strides in the future. This team has worked so hard to improve and collectively worked together to make each other better. Ryder and Silas having the opportunity to advance is not only a testament to their hard work, but their teammates around them pushing them in the room to be better than they were the day before. This is a such a great group of kids to work with and we're all excited to see them grow in the coming years.
"Ryder wrestled extremely tough today and fought to the end in all his matches, which ultimately led to him advancing. Gunther from Towanda is a fighter and a tough kid, and for Ryder to be down with seconds to go and score late to advance was pure heart and desire to win.
"To see Silas avenge his loss to a tough kid in Bellows was such a great moment for him and our staff. Getting pinned earlier in the year and flipping the script is exactly why coaching is all worth it. Seeing kids achieve their goals and showing hard work pays off is exactly why we do this."
In other matches during the day, freshman Alyssa Chilson (127 lbs.) was pinned by NEB's Hunter Comstock in the pigtail round. In the quarterfinals, sophomore's Alec Magli (121 lbs.), Jacob Dean (152 lbs.), and Evan Ingerick (172 lbs.) along with freshman Hayden Stevens (215 lbs.) and Dominick Starkweather (285 lb s.) were all pinned by their opponents. Magli, Ingerick, and Stevens also suffered pins in the first consolation round, while Dean and Starkweather were pinned in the consolation semi-finals of their weight classes.
"Alyssa, Alec, Evan, Dominick, Hayden, and Jacob all showed improvement today," Bitner concluded. "Although it didn't go how they would've liked, they all demonstrated that they weren't the same wrestler than when they started and we're extremely proud of them."
Mickey and Bowen will be back in action at Williamsport High School on Saturday.