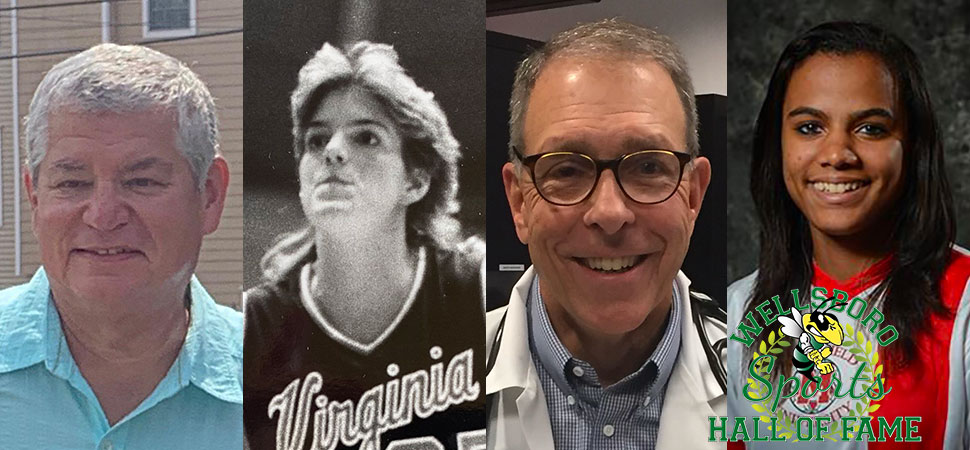 Dinsmore, Shaw, Getty & Lewis Selected for 2023 Hall of Fame Class
By: Ed Weaver / April 24, 2023
The Wellsboro Sports Hall of Fame committee is proud to announce its class of 2023.
The Class of 2023 is comprised of Jim Dinsmore (coach), Dr. Donald Shaw (contributor), and athletes Alexis Getty and Sallie Lewis.
Dinsmore was a prominent fixture on Wellsboro sidelines since the late 70's. After a two year stint at rival North Penn, Dinsmore joined the Wellsboro coaching staff for their 1977 NTL championship season. After that year he moved down to the junior high level, where he was both the head and assistant coach in multiple appointments until he retired in 2008. Coach Dinsmore not only prepared hundreds of future varsity players for their next challenge, but also instilled the love of the game in all his athletes. In his career Coach Dinsmore's teams went undefeated six times, had four seasons with just one loss, and only had three losing seasons. Even in retirement Coach Dinsmore still actively supports all Wellsboro athletic programs and attends multiple sporting events each year.
Dr. Shaw served as Wellsboro's team physician for 29 years (1988-2017), providing medical coverage at games as well as supporting Wellsboro's athletic trainers. Shaw went to Roxborough High School in Philadelphia then attended Dartmouth College after graduation. In 1978 Shaw graduated from the Philadelphia College of Osteopathic Medicine before moving to Wellsboro in 1981. Dr. Shaw went above and beyond his required hours to make sure Wellsboro's athletes were ready to play each week. In the years since his official departure from Wellsboro athletics, he and his wife, Deb, continue to be avid supporters of the Wellsboro sports programs: attending nearly every home football game since their sons, Tim and Ben, graduated; and maintaining the long-standing tradition of weekly football team dinners. Shaw was also inducted into Mansfield University's Athletic Hall of Fame in 2011.
Getty (soccer) was a multi-sport athlete at Wellsboro, playing 4 years of soccer, a year of basketball, and 4 years of track. She was a two-time MVP for soccer, a three-time NTL All-Star, and all-state selection, and the first Wellsboro girls soccer player to score 50 career goals. She currently holds the record for 82 goals in her career and was the 2011 Shelly Taynton Memorial Award winner. In track Getty was a PIAA state qualifier in the 100m, 400m, 4x100m and 4x400m relays and was part of the school record-holding 4x400m relay team in 2010 (3:55.04). After graduation Getty attended Mansfield University and played soccer for 4 years. During her time as a Mountie, she received the "Most Improved Player" award after bouncing back from multiple ACL injuries. She graduated with a Bachelor's in Business Administration with an accounting concentration.
Lewis (basketball) played several sports while at Wellsboro, but was a standout in basketball. She was fortunate enough to have been selected to play on the Varsity squad while in the 9th grade, and set individual High School scoring records while helping the team to a District title her sophomore year. She was selected to the McDonald's All-American basketball team, as well as awarded an Honorable Mention as a High School All-American in 1981. As a member of the track team Lewis accumulated 4 varsity letters, helped the Lady Hornets win two NTL championships, went 58-12 overall, and qualified for the 1980 PIAA meet in the javelin. Lewis was also instrumental in Wellsboro winning two NTL and two District IV championships in volleyball. She was co-captain her senior year and co-MVP in her senior year. After graduating, Sallie attended the University of Virginia on a full athletic scholarship for basketball, and now resides in Charlottesville, VA.
The Wellsboro Sports Hall of Fame Class of 2023 will be inducted on Friday, September 8, 2023, at halftime of the Wellsboro-Canton football game.