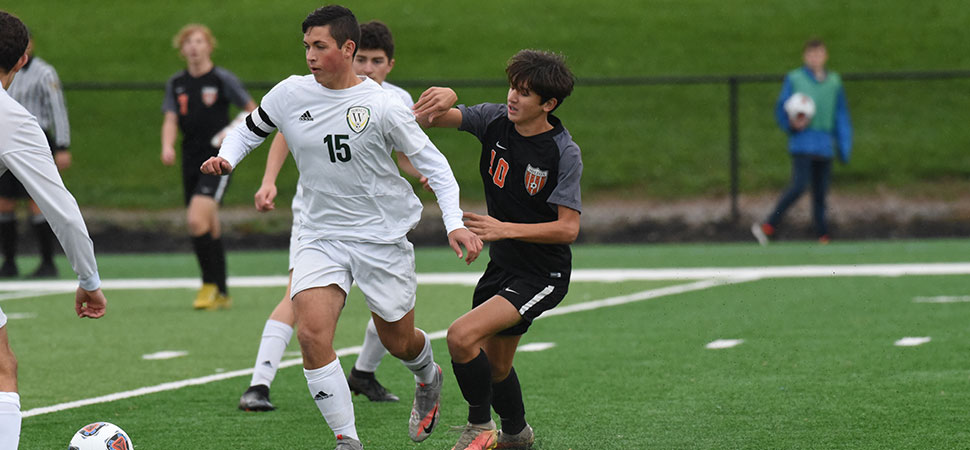 Hornets fall to Milton in D4 playoffs
By: Ed Weaver / October 31, 2021 / Photo: Brett Crossley/Northcentralpa.com
The Wellsboro Boys Soccer team fell 5-1 to Milton in the PIAA District IV Class AA quarterfinals at Loyalsock on Saturday, October 30.
The Black Panthers controlled the time of possession for the majority of the game and held the Hornets to just one shot attempt on goal during the game.
"We knew that they were a fast team, a skilled team, and that they could score goals," head coach Todd Fitch said. "We changed our style a little so we were comfortable having possession. We talked about that all week, we had to be comfortable with them having possession. They controlled possession but we were okay with that."
Milton scored twice in the first half, their first one coming at the 18:36 mark by Joel Langdon, then again at at 12:14 by Conner Smith, to go up 2-0 on the Hornets. The Hornets' shot on goal came late in the first half. Off a counter, junior Jack Poirier got just enough of the ball to sneak it past the Milton keeper to cut the lead to 2-1 with 2:38 left to play.
"That's what we were looking for, we were looking to play off counters," Fitch continued. "That one, their keeper was coming out pretty high, and of course when you have speed up front with Sam and Jack we were able to get through a seam and Jack was able to finish. We told the boys at the end and talked about it at halftime, we executed what we wanted to do with our style of play against them today. But when you're in the hole it forces you to change some things and that put us out of shape a bit. And when you play a good team and you're out of shape they can break you down, and that's what they did. But until the put their first goal in, actually the entire first half, I was pleased how the boys executed our plan."
The second half, however, was controlled by Milton as they scored three goals to put the game firmly in their control. They scored at 37:27, 13:31, and 8:54.
Milton, who took 14 shots on goal, had a slight 2-1 advantage in corner kicks. Junior Aiden Gehman made 9 saves on the afternoon.
The loss ends the Hornets' season with a 9-6-2 (9-1-1 NTL) record.