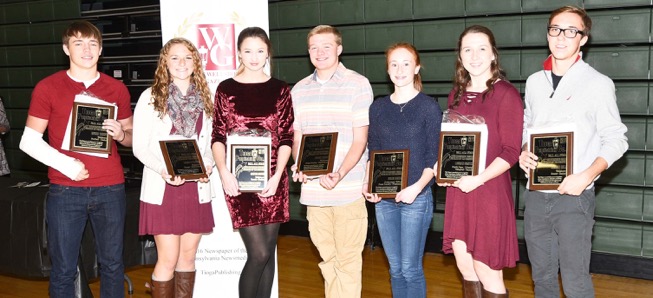 Hornets named Wellsboro Gazette Athletes of Fall Season
By: Ed Weaver / December 8, 2016
5 members of Wellsboro's Fall sports teams were recognized by the Wellsboro Gazette as Athletes of the Season on Sunday, December 4 at Wellsboro Area High School.
Junior Quinn Henry (football), sophomore Emma Poirier (girls soccer), junior Olivia Ryan (girls tennis), sophomore Aidan Perry (boys cross country), and senior Josiah Hill (boys soccer) were honored as top athletes in their respective sports.
Numerous other Hornets received additional honors:
Up and Coming All-Stars
Freshman/Sophomore athletes; Players to Watch for next season.
Kristen Bair (girls tennis)
Aidan Hauser (football)
Kayla Mengee (girls cross country)
Brett Rudy (boys soccer)
Taynton Repard (golf)
Hunter Brown (football)
Austin Richards (boys cross country)
Speciality All-Stars
Athletes who might not have as many statistics to show their accomplishments due to injury or other situations, but huge contributors to team' success; acts of sportsmanship, great leadership, commitment, dedication.
Brent English (football)
Brandon Lamphier (football)
Heidi Zuchowski (volleyball)
Ethan Nichols (football)
Chris Richardson (golf)
Emma Palmer (girls cross country)
Honorable Mention All-Stars
Athletes who stand out in their respective sport; large contribution both individually and to the team.
Brianne Keane (volleyball)
Anna Bleggi (girls cross country)
Dahlia Hosey (girls soccer)
Faith Kennedy (girls tennis)
Chase Moser (football)
Sydney Tremper (volleyball)
Robert Brown (football)
Parker Jones (football)
Gabe Leach (boys soccer)
Brandyn Tuttle (golf)
Outstanding All-Stars
Athletes who have top statistics, broken records, career milestones, leaders in their respective field, individual accomplishments.
Morgan Florio (volleyball)
Josiah Hill
Kelsey Logan (girls soccer)
Aidan Perry
Tanner Runyan (boys soccer)
Ben Barnett (golf)
Quinn Henry
Casey Hoover (boys soccer)
Emma Poirier
Olivia Ryan
Kirsten Florio (volleyball)